Tasty Thursday
Tasty Thursday (11/12/20)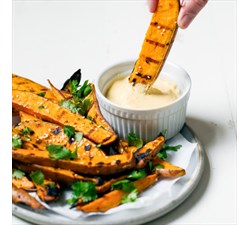 For our final #TastyThursday of the season, we've got a fantastic recipe with sweet potatoes that can easily be swapped out for another vegetable.
Today's recipe is Sesame Garlic Grilled Sweet Potato Fries with Yogurt Curry Dip (credit to Ambitious Kitchen)
You Need: 2 large sweet potatoes (cut into 1 inch wedges), 1 1/2 tablespoons of sesame oil, 3/4 teaspoon garlic powder, salt and pepper, 1/2 cup nonfat Greek yogurt, 1 teaspoon of curry powder, 2 teaspoons of lime juice, and 1 teaspoon of maple syrup.
1. Preheat your grill to 375 degrees or medium heat
2. Toss sweet potato wedges, sesame oil, garlic powder, salt, and pepper in a bowl
3. In a separate bowl, combine the yogurt, curry powder, lime juice, maple syrup, and a pinch of salt and pepper to make the yogurt dip
4. Once your grill is heated, grill each wedge for about 3-4 minutes on each side
5. Serve the grilled wedges with the yogurt and enjoy!
If sweet potatoes are not your thing, feel free to swap that out for another vegetable of choice and enjoy this tasty side dish with fresh vegetables from the market. Be sure to stop by and see us this Saturday for our last Saturday market of the year!
We've loved sharing recipes with you this season!
Tasty Thursday (11/05/20)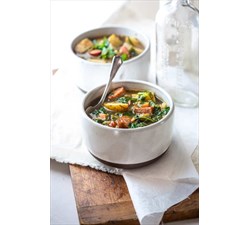 Today's #TastyThursday is a filling and hearty soup perfect for this time of year when it seems to get colder each week.
Today's recipe is Potato and Kale Soup with Andouille (credit to Healthy Seasonal Recipes)
You Need: 2 tablespoons of extra virgin olive oil, 6 cloves of minced garlic, 1 large leek (sliced and cleaned), 2 diced carrots, 2 diced celery stalks, pinch of salt, pinch of pepper, 1 1/2 teaspoon of dry marjoram, 1/2 teaspoon of anise seeds, 1/2 cup of dry white wine, 4 cups of chicken broth, 1 1/2 pounds of potatoes cut into inch chunks, 6 ounces of sliced andouille sausage, and 8 cups of chopped kale (stems removed).
1. Heat oil in large, heavy-bottomed soup pot
2. Add garlic and leak for 2-3 minutes until leek is softened and garlic is fragrant
3. Stir in carrot, celery, salt, pepper, marjoram, and anise, and increase heat to high
4. Stir often for 5-7 minutes until the vegetables have softened and the bottom of the pot is starting to brown
5. Add wine and cook until mostly evaporated (2-3 minutes)
6. Add broth and potatoes, cover, and bring to a boil
7. Stir the stew and then layer in andouille and kale
8. Cover and once again bring to a boil
9. Reduce heat to maintain a simmer and cook for 12-15 minutes, stirring occasionally
This delicious meal is easy and healthy soup is a wonderful late fall of winter dinner. Stop by the Farmers Market this Saturday and pick up some fresh kale to try out this recipe!
Tasty Thursday (10/29/20)

What better way to get your greens than in a delicious smoothie?
Today's recipe is Detoxifying Green Apple Smoothie (credit to Making Thyme for Health)
You Need: 1 cup of packed kale leaves (stems removed), 1 cup packed spinach leaves, juice of 1/2 a lemon, 1 green apple (cored and diced), 1/2 cucumber, 1/2 teaspoon of honey, 1/2 cup of water, and 3 ice cubes.
1. Cut your cucumber into quarters lengthwise and cut off the ends to remove the seeds
2. Roughly chop the cucumber
3. Add all ingredients to a blender and blend until smooth
4. Add smoothie to a glass and then garnish with a slice of cucumber
Smoothies are so easy to make and so good for you. Come visit the market to get local greens, honey, and apples to try out this recipe!
Tasty Thursday (10/22/20)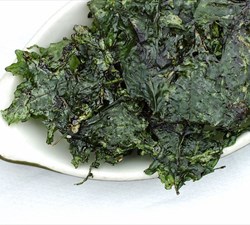 Looking for a healthy, fall alternative to potato chips?
Today's recipe is Maple Kale Crisps (credit to allrecipes)
You Need: 1 bunch of kale, 1 tablespoon of extra light olive oil, 2 tablespoons of real maple syrup, and 1 teaspoon of sea salt.
1. Preheat your oven to 350 degrees and line a baking sheet with parchment paper
2. Remove the stems from your kale and tear the leaves into pieces
3. Blot your kale with paper towels to ensure they are dry and spread them out onto the parchment paper in a single layer
4. Drizzle the kale with olive oil and maple syrup and sprinkle with sea salt
5. Bake in the oven until the edges begin to brown (10-15 minutes) being sure to check often past 10 minutes to prevent burning
A healthy alternative you can make with fresh greens from the market? Sounds good to us!
Tasty Thursday (10/08/20)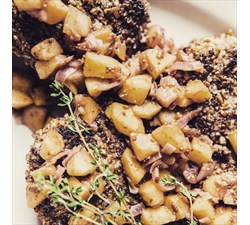 How about a twist on the classic pork and apple combo?
Today's recipe is Pecan Crusted Pork Chops with Apple Chutney (credit to The Modern Proper)
You Need: 6 boneless pork chops, 1/4 cup of stone ground mustard, 2 eggs, 2 cups of pecans, 2 tablespoons of thyme, 1 tablespoon of salt, 1 tablespoon of garlic powder, 1/2 tablespoon of pepper, 4 tablespoons of olive oil, 2 cups of gala or fuji apples (peeled, diced, and cored), 1/4 cup of finely-chopped shallots, 1 tablespoon of whole grain mustard, 2 tablespoons of apple cider vinegar, and 1/2 tablespoon of cinnamon.
1. Preheat your oven to 350 degrees
2. In a pie pan, combine eggs and stone ground mustard
3. Grind together pecans, thyme, salt, garlic powder, and pepper
4. Heat oil in a pan over medium high heat
5. Dip each pork chop in the egg mixture, then the coat it in the pecan mixture until each pork chop is coated on both sides
6. Sear each pork chop in the oil and then put pork chops on a baking sheet and cook in the oven for 20-25 minutes
7. In a small saucepan, heat apples, shallots, whole grain mustard, sugar, vinegar, cinnamon, and a pinch of salt over medium heat and bring to a boil
8. Reduce heat and simmer for 10 minutes until liquid has absorbed and apples are tender
9. Spoon apple chutney over pork chops and enjoy!
We have delicious fresh apples available at the market just waiting to be turned into this autumn meal!
Tasty Thursday (10/01/20)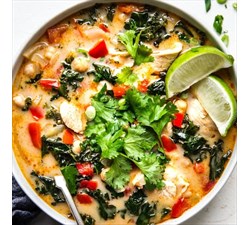 Happy October! Why not take advantage of a seasonal favorite: pumpkins!
Today's recipe is Slow Cooker Chicken Pumpkin Curry (credit to The Modern Proper)
You Need: 14 oz can of coconut milk, 2 tablespoons of red curry paste, 1 tablespoon of fish sauce, 1 tablespoon of soy sauce, 1 tablespoon of brown sugar, 4 cups of cubed pumpkin (can sub butternut squash), 1 1/2 pounds of boneless chicken breast, 1 tablespoon of salt, 1 diced bell pepper, 3 cups of spinach, juice of 1 lime, steamed rice, lime wedges, cilantro, and cashews.
1. In the bowl of the slow cooker, combine coconut milk, red curry paste, fish sauce, soy sauce, and brown sugar
2. Add pumpkin and chicken to the bowl and nestle it in the liquid
3. Cook on low for 8 hours or high for 4 hours
4. Take the chicken out of the bowl and set heat to high and mix the remaining curry in the slow cooker together with the salt
5. Shred the chicken with two forks and then add it along with the bell pepper to the slow cooker
6. Cover the curry and cook for 30 more minutes
7. Add spinach and juice of 1 lime to the mixture and stir until spinach starts to wilt
8. Serve over steamed rice garnished with lime wedges, cilantro, and cashews
Why not celebrate fall with a warm delicious autumn dinner like this one? We'll see you at the market to pick up your pumpkins and other goods!
Tasty Thursday (09/24/20)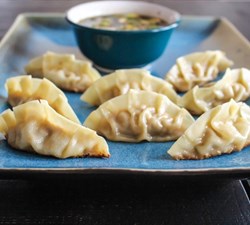 The fresh apples and local pork available at the market last week inspired us!
Today's recipe is Pork and Apple Pot Stickers (credit to Yes to Yolks)
You Need: 3 tablespoons of canola oil, 1 medium onion finely chopped, 1 medium apple finely chopped, 1 tablespoon of grated ginger, 2 finely minced garlic cloves, 1/4 cup rice wine vinegar, 1/4 cup apple juice, 1 pound of ground lean pork, 1/2 cup soy sauce, 5 finely diced scallions, 2 tablespoons of toasted sesame oil, 1 tablespoon of honey, pinch of red pepper flakes, 1 beaten egg, and 50 round dumpling wrappers
1. Heat a tablespoon of oil in a large skillet over medium heat and then add onion and apple until soft (5-7 minutes)
2. Add garlic and ginger and cook for another minute
3. Add rice wine vinegar and apple juice and cook until liquid is almost evaporated (about 10 minutes)
4. Remove from the heat and allow mixture to cool
5. Once cool, combine with pork in a large bowl and add 2 tablespoons of soy sauce and one scallion
6. Cool mixture in the fridge for at least 20 minutes
7. To make dipping sauce, whisk together remaining soy sauce, sesame oil, remaining scallions, honey, and red pepper flakes until well-combined
8. Lay wonton wrappers flat and brush edges with egg wash
9. Fill wonton wrappers with 1/2 tablespoon of filling and pinch edges closed
10. Press the pot stickers until they have a flat bottom and then add back into the skillet used before (with heated oil in the bottom) for about 3 minutes until they have a crispy bottom
11. Add 1/4 cup of water, cover, and steam until water is evaporated and pot stickers are puffy (5-7 minutes)
12. Remove lid for final 1-2 minutes of cooking
Dumplings are a favorite of many who frequent Asian restaurants, but now you can make some at home with local ingredients from the Farmers Market!
Tasty Thursday (09/17/20)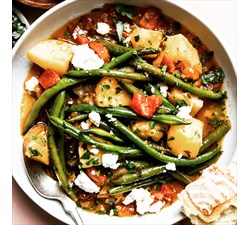 Have you been enjoying some delicious, homegrown green beans and potatoes from the market? If not, this recipe will inspire you to do so!
Today's recipe is Fasolakia--Greek-Style Braised Green Beans and Potatoes (credit to The Modern Proper)
You Need: 1/2 cup of olive oil, 1 large onion finely diced, 6 cloves of minced garlic, 3 tomatoes diced, 2 tablespoons of tomato paste, 3 medium potatoes cut into 1 1/2 inch pieces, 1 pound of trimmed green beans, 1 cup of finely chopped parsley, 2 tablespoons of chopped dill, 1 1/2 cups of water, and salt and pepper to taste
1. Heat the olive oil over medium high heat in a large saucepan

2. Add onion and garlic and cook until soft (2-3 minutes)

3. Add tomatoes and tomato paste and cook for 5 more minutes

4. Add potatoes and stir thoroughly to combine

5. Add green beans to the top of the potato mixture but DO NOT STIR

6. To the top of the green beans add the parsley and the dill

7. Add enough water to cover the beans and cook under a cover for 15 minutes

8. Stir all the ingredients together and season with salt and pepper

9. Set heat to low and cook covered for an additional 30 minutes until potatoes are tender
This recipe is delicious with some crusty artisan bread (which can be found at the market as well) and/or some creamy feta cheese. Give your diet some mediterranean flare with fresh ingredients from the Farmers Market!
Tasty Thursday (09/10/20)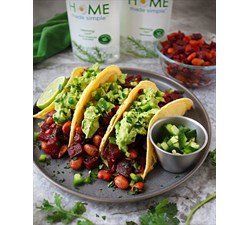 Is Taco Thursday a thing? Well it is now!
Today's recipe is HeartBeet Bean Tacos (credit to SavorySpin)
You Need: 2 tablespoons of olive oil, 1 onion, 1/2 inch piece of peeled ginger, 5 cloves of peeled garlic, 1 large washed beet, 1 can of pinto beans, 1 teaspoon of coriander, 1/2 teaspoon cumin, 1/2 teaspoon turmeric, 1/2 teaspoon chili powder, 1/2 smoked paprika, salt and pepper, and cilantro
1. Peel and dice onion
2. Add oil to a large pan and sauté the onion for 10 minutes, stirring often
3. While onion is sautéing, peel garlic and chop garlic and ginger
4. Peel beet and cube it
5. Add garlic, ginger, and beets to onion and mix well
6. Add coriander, cumin, turmeric, chili powder, and smoke paprika to the mixture
7. Cover and let cook for 7-10 minutes until beets are tender
8. Drain and rinse pinto beans
9. Add beans into beet mixture and mix well
10. Season with salt and pepper and then spoon into tacos and garnish with cilantro (and your other favorite toppings)
This is a great recipe to try out for the vegetarian in your family or if you're experimenting with recipes for Meatless Mondays. Come see us at the market for homegrown beets!
Tasty Thursday (09/03/20)

Today's #TastyThursday is a family favorite and a classic!
Today's recipe is Stuffed Bell Peppers (credit to Betty Crocker)
You Need: 4 large bell peppers, 1 pound of lean ground beef, 2 tablespoons of diced onion, 1 cup of cooked rice, 1 teaspoon of salt, 1 clove of finely chopped garlic, 1 can of tomato sauce, and 3/4 cup of mozzarella cheese
1. Preheat your oven to 350 degrees
2. Cut the tops off the bell peppers, remove the membranes, and rinse out any remaining seeds
3. In a Dutch oven, add enough water to cover the peppers and then heat the water to boiling
4. Add the peppers to the Dutch oven and cook for about 2 minutes
5. In a skillet, cook beef and onion over medium heat for 8-10 minutes until beef is brown
6. Drain grease and stir in rice, salt, garlic, and one cup of tomato sauce until mixture is warmed through
7. Stand peppers upright in a baking dish and fill peppers with beef mixture
8. Pour remaining tomato sauce over peppers and cover with foil
9. Bake for 10 minutes, uncover, and then cook for an additional 15 minutes or until peppers are tender
10. Sprinkle cheese over the top and enjoy
What could make a stuffed pepper recipe better than a fresh, local, homegrown pepper? Come see us this weekend and pick one up!