Vendor Spotlight
Vendor Spotlight (10/18/20)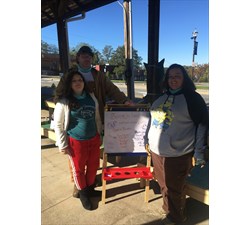 Two of our local meat producers: Crystal and Barry Farmer!
Crystal and Barry run Serenity Farmstead, and they've been coming to the market for the past three seasons every other week. They bring a variety of pork cuts to sell including garlic brats, sausage, and roasts. They also have chicken bones to make bone broth and homemade lard. You can mix and match products and make your own package of what suits your family's needs!
Their favorite thing about the market is talking to customers. They love how everyone that comes through is different, so they can discuss lots of different topics.
Free time isn't really a thing for this couple as Crystal is the Children and Youth Director for her church, and Barry manages a metal-coating site which utilizes his chemistry background. However they both clearly value education with two degrees each!
While many often think of produce only for farmers markets, we're so lucky to have local meat at ours as well. Stop by and see Serenity Farmstead the next time they're at the market (October 31)!
Vendor Spotlight (10/11/20)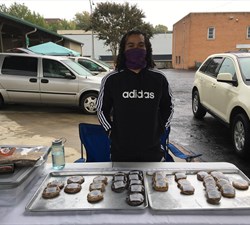 Dustin Martin with his fantastic cookies!
Dustin's business is called Sweet Spot, and this is his first year at our market. As the name would suggest, visiting Dustin's table will definitely cure your sweet tooth. He offers a variety of cookies including classics like peanut butter, chocolate chip, and oatmeal as well as speciality cookies like peanut butter pretzel, s'mores, red velvet, and more. He also has gluten-free and vegan cookies available that are just as delicious as the originals!
Meeting new people is Dustin's favorite thing about the market. In particular, he says that "people liking my stuff makes me feel good."
You would think that Dustin may get tired of sweets given how many cookies he bakes, but not according to his fun fact. Cookies are actually his favorite food!
We are so lucky to have Dustin at our market, and we hope you'll stop by and sample his cookies soon. We know you won't be able to have just one!
Vendor Spotlight (10/04/20)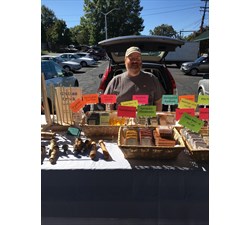 The talented Forrest Forschmied!
His business is Grattan Creek, and this is his first year at the Martinsville Farmers Market although he did attend the High Point Farmers Market before moving to the area. Grattan Creek features a variety of soaps as well as beautiful handcrafted wood work. At this moment, you can find bottle openers and stoppers, BBQ hooks, and Christmas ornaments!
Forrest's favorite thing about the market is the social aspect. He pointed out that especially right now when we're locked up so much of the time, it's nice to be able to get out and meet people.
Fun Fact about Forrest: He is a tinkerer to the core! You will always find him either messing with new ideas for soaps, crafting with his woodwork, or working on his motorcycles.
Local artisans are so special, and we're so thankful to have Forrest and his creations at our market!
Vendor Spotlight (09/27/20)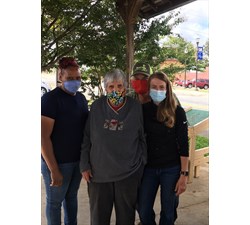 The fantastic group at Trent Farms led by Karen Trent Collins and her team: Roy, Sharon, and Thelma.
Karen has been coming to the market for about ten years off and on depending on the season. You'll find either her or her father, Tommy Trent, manning the big white truck full of homegrown produce every Wednesday and Saturday. Heading into the fall season, Trent Farms will have mustard and turnip greens, apples, cabbage, tomatoes (until frost), and hopefully sweet potatoes.
Karen loves coming to the market to work with Roy, Sharon, and Thelma. Her favorite part, however, is the customers, especially the regulars. She said that she is also thankful for the loyalty that customers have to the market, and that's what keeps Trent Farms coming back.
Of course, we had to have a fun fact about each member of this team of cut-ups! Karen likes meeting new people when coming to market, and Sharon similarly is a huge people person. Roy is definitely the jokester of the group, and Thelma loves bluegrass and makes fantastic homemade dishcloths.
We're so thankful for Trent Farms and their team at our market. So make sure to stop by and get some produce from them this week!
Vendor Spotlight 09/20/20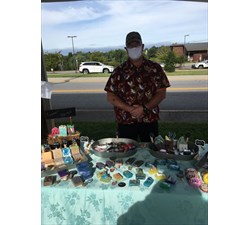 Another husband-wife team: Roger and Michele (not pictured) Bell!
Roger and Michele have two business ventures at our market. As a team, they run Soap-N-Unique, and Roger also does knife sharpening on-site once a month. They've been at the market for 5 years and have been building a solid customer base in that time. Soap-N-Unique offers a variety of cold-pressed soaps in lots of different scents, shapes, and designs including a farmers market collection and soaps with built-in loofas. Once a month, Roger takes a break from selling soap and instead sharpens knives, scissors, and yard tools on-site.
They both love the people at the market including vendors and customers. Specifically, Roger loves that there is such a wide variety of customers that come through and that there are new customers all the time.
Fun Fact about this couple: Roger is originally from Mt. Airy, and Michele is a Florida girl. They met in Florida, but Roger cheated by bringing her to the Blue Ridge in the third week of October. After looking at the leaves and finding a street by chance with her maiden name, Michele decided the two needed to move to Stuart, and they've been there ever since!
We love having this couple and both the soaps and the knives at our market. Be sure to stop by and see Roger for some smell-goods and/or sharpening soon!
Vendor Spotlight 09/13/20

This week we're featuring Mike and Koty Likens!
This father-son team runs Likens Homestead, and they're brand new to the market this year. After converting some family land into rows of neighbor-requested produce plants, they're now bringing tons of homegrown goods to the market each week including tomatoes, cucumbers, squash, corn, and beans. Starting in October, they'll also have homemade candy in flavors such as peanut butter, coconut, almond joy, and peanut butter pinwheels.
Mike and Koty are both very friendly and enjoy visiting with the people at the market. Koty said, "I've seen people I ain't seen in 40 years and I'm only 22!"
Fun Fact about these two is that they are very easy going and laid-back, but they love to laugh. They've lived in the area for many years and know just about everyone. Their family's name is very important to them, so they offer a satisfaction guarantee. If something is wrong with your purchase, they'll make it right.
This duo is a joy to have at our market, and Koty's laugh is definitely one you have to hear, so stop by and see them the next time you visit with us!
Vendor Spotlight 08/30/20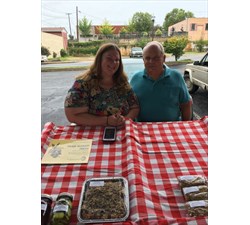 The father-daughter team of Doug Wood and Debra Knight!
This pair runs K&W Produce, and this is their first year as a team at the market. However Doug did attend the market for three years with his brother in the past. Each week they offer a variety of breads and cookies, chicken salad, pimento cheese, tomatoes, beets, cabbage, broccoli, cucumbers, and squash. All of their products are, of course, homegrown and homemade.
Doug and Debra love to meet the people at the market and love to shop from other vendors. Debra even said, "sometimes I spend more than I make!"
Fun Fact about these two is that they are very close. In fact, Debra bought a house down the street from her dad so they could live less than a mile apart.
It's a family affair at the Uptown Martinsville Farmers Market, so stop by and see father and daughter the next time you're shopping with us!
Vendor Spotlight 08/23/20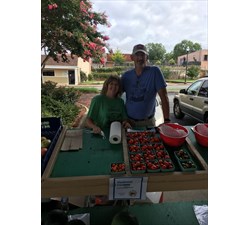 Another power couple: Mark and Sylvia Prescott!
Mark and Sylvia's business is called Piedmont Farmacy (get it?), and this is their first year at the market. In fact, they only moved to the area in April, started farming immediately, and joined our market in July. At their table, you can find a variety of organically-grown vegetables including a wide range of tomatoes. The idea of their business was to grow a large selection of vegetables, so a customer could buy a bag of 7-8 types of produce and be set for the week. They hope to implement this idea next season!
The market for these two is "just really fun!" They love to see repeat customers and hear about them enjoying the products. They also want to help expand people's pallets and encourage customers to try new foods.
Fun Fact: Mark and Sylvia are both bookworms. Sylvia enjoys fiction and is always looking for a good book recommendation. Mark prefer to read nonfiction and is currently reading "The Physics of Agriculture" in order to learn more about regenerative farming.
Mark and Sylvia's goal is take care of the land and take care of the community, so they're a perfect fit for our market. Stop by and say hello the next time you shop!
Vendor Spotlight 08/16/20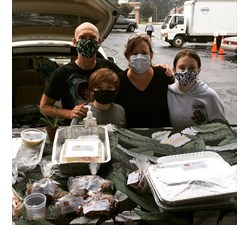 The husband and wife team of Luke and Natalie Harris!
Luke and Natalie run Roots&Leaves, a brand new business at the market this year. Their offerings change every week with a few mainstays like hummus, granola bars, and homemade cheese. They come to our market on Wednesdays to buy produce and combine it with output from their own garden to create delicious, organic, and fresh food. Besides being tasty, many of their goods are also vegan/vegetarian and/or gluten-free! Keep an eye on their Facebook or Instagram page each week for a menu of what will be available on Saturdays.
These two love the community feeling of the market. In particular, they love how the vendors look out for one another and recommend one another's goods. In addition to that, Luke and Natalie are also very passionate about local food, and the farmers market is perfect for that.
Fun Fact: Luke is originally from Australia, and both Luke and Natalie have tons of food experience between family bakeries and restaurant jobs.
Our family of vendors is growing, and we love having Luke and Natalie and their delicious creations at our market. Stop by and say hello the next time you visit us!
Vendor Spotlight 08/09/20
The Honey Man: Mike Tatum!
Mike runs Heavenly Hill Honey out of Ararat. He learned the art of beekeeping from his grandfather and now has a successful business "from bee to you." This is his first year at the market, but he's already made quite the impression. At his table, you'll find elderberry syrup in several varieties such as maple, honey, and keto as well as sourwood and poplar honey.
Mike's favorite thing about the market? "I love people!" He loves to see the wide range of customers across the spectrum at the market. Everyone is different and seeing a variety of customers tells him he has a strong product. He also likes to hear about customer successes and suggestions.
Fun Fact: Mike is a huge history buff and is very interested in genealogy. He can actually trace his family back to the beginning of Virginia in 1619, to Hopewell in the 1700s, to Patrick County where he currently resides.
Mike is at the market every Wednesday and every other Saturday, so stop by and see him and his observation hive the next time he's in town!